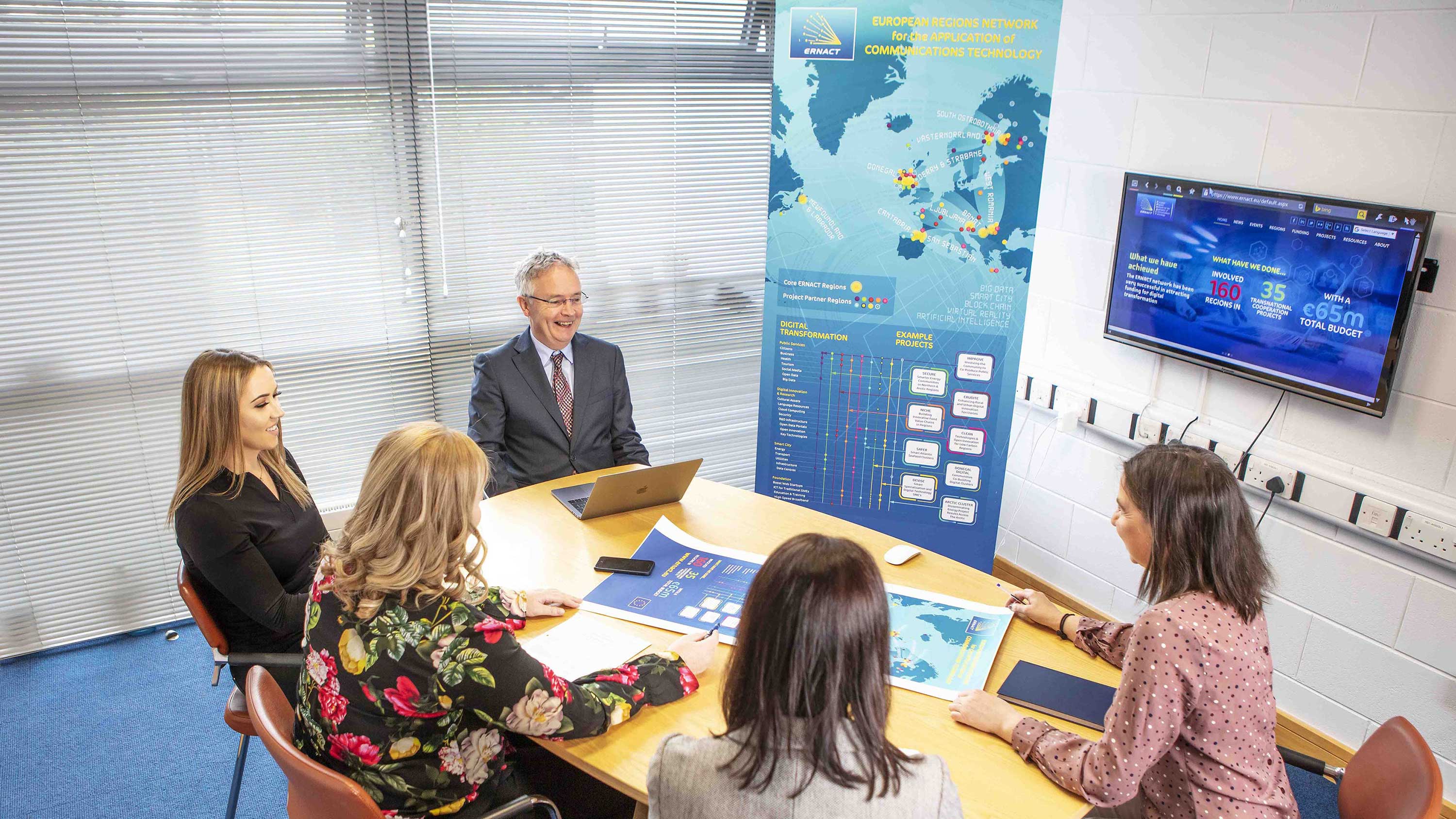 Are you a self-starter who likes a challenge and gets a kick out of motivating others to achieve goals and opportunities? Interested in how the digital transformation revolution is impacting the economy, society and work in public and private sectors?
ERNACT, located in Letterkenny, Co Donegal, is seeking to fill two Project Manager positions.
Reporting to the General Manager, and working within a knowledge-based team environment, you will collaborate with more than 50 public authorities and universities partners across Europe to add value to a range of Digital Agenda strategies, projects and initiatives.
Further details are set out below. Secondments from other organisations are encouraged. Please return your CV by email only to recruitment@ernact.eu no later than 5.00 pm on Friday 20 September 2019.
INTRODUCTION TO ERNACT
ERNACT is a trans-European network or partnership of public sector organisations whose mission is to add value to the efforts of its individual partners to integrate digital transformation models and technologies into their own regions.
ERNACT has developed an enviable track record for developing and delivering innovative transnational digital transformation projects, in diverse areas such as low carbon, tourism, aquaculture, smart city and digital innovation hubs.
Current project activities span some 44 organisations across Europe, including regional authorities and development agencies.
DUTIES
Carry out day-to-day planning, control and management of a number of EU-funded projects
Report project progress to ERNACT management, partners and the European Commission
Assist other team members to prepare new project proposals
Be a point of knowledge for colleagues, clients and partners within a project driven multi-disciplinary team environment
Help develop and maintain good business relationships with project partners and European Commission staff across the European Union
Attend project meetings across Europe as required
QUALIFICATIONS AND SKILLS
Honours Bachelor and/or Masters degree in a computer science, engineering or business discipline
Fluency in written and spoken English
A full clean driving license, valid in all European countries, with access to a car for work purposes
Demonstrative skills in use of the latest computer-based tools and systems
EXPERIENCE
Minimum of three years' post-graduate experience
Strong project management experience in the public or private sectors
OTHER REQUIREMENTS
In addition to the above qualifications, skills and experience, all candidates will demonstrate capacity, experience and/or potential in a number of the following areas:
Demonstrative methodical and analytical approach to work
Strong interpersonal and "people" communication skills
A second European language
Good written & presentation skills & ability to represent the organisation at a senior level.
Business and client development skills
An interest and understanding of digital transformation innovation drivers and technologies
Ability to work in multi-disciplinary, multi-cultural and multi­ organisational teams
Previous experience of working in a European Union (EU) project environment